On the occasion of the 100th anniversary of the right to vote for the poor men and the women, I sat out to explore the question of equality in the art world on a historical context and up till present time.
I discovered that there is gender in many artworks. You can as well trace intellect, emotion, body, soul and spirit in different dosis in an artwork. Why shouldn't sexuality be perceived? Although there are artists who have chosen on purpose or unconsciously to work with other aspects where gender isn´t evident.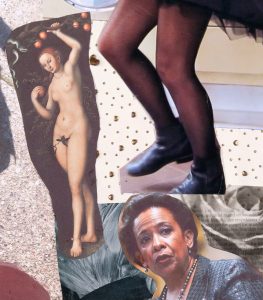 The question could be out of people's focus. Compared to other Scandinavian countries there are taboos and resistance that you wouldn't expect to find in DK concerning the gender debate. The lack of gender equality according to statistics does not seem to bother the laid-back Danes. They still think they are up front and free.
Collage on dish cloth 40x40cm: