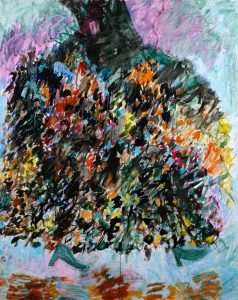 … Inge Dahl is a fiery soul. …Movement is her medium, a continuum extending from the gentlest breeze to a raging typhoon. Storms erupt across her paintings, an expression of life itself. They stream through the artist's frame into the fine nerve fibres of her brush, leaving tracks across her canvases. …
Tossed like a light buoy on a troubled ocean, our understanding comes and goes; motifs of colour and musicality bring us from the deep "everything-and-nothing" until we find ourselves in shallow and navigable waters, where gradually things begin to make sense.

A gown as wide as the firmament, festive as a carnival in Rio, protective like Madonna Misericordia, fashionable as a model on a catwalk. (…)

Inge Dahl sticks a straw into our collective consciousness. (…) She is endlessly curious; she has travelled the world countless times, fascinated by what lies on the other side of the tracks - while never forgetting where she came from.

More global than Danish, ( … ) Dahl's gowns and dresses recall the canvases of Balinese kite-makers. Every Balinese takes his kite along to work. Painted in bright colors and characteristic forms, it can be easily spotted in the infinite skies. His kite is a periscope into the clouds, into the air, into the world beyond. Did Inge Dahl filch a kite's eye view?

… The dress may also suggest a blazing thorn bush. Or a cornucopia, a bouquet of flowers, an explosion of colours, the vibration of life itself, arrested only because the canvas ran out.
That's how it appears. But just as the string must be fastened to the kite to haul it back to report its observations, so the painter must navigate the painting, the mate in the storm. A painting is a matter of structure and balance – of choices, built upon a secure grasp of detail and a strong vision of the whole. Of these, Inge Dahl is a master. …
Ole Nørlyng
Cand.Mag.
history of Art/science of music
Art critic. Berlingske Tidende/Weekendavisen
Knight of the Dannebrog
.
.